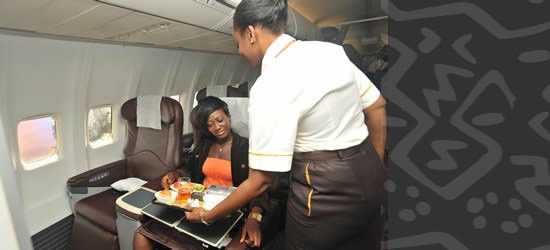 On board
Business class

Space and comfort: a cabin where everything is put to make your trip more enjoyable.
Comfort
Each seat measuring almost 60cm wide and can turn into a real hammock for relax. You will be given:
a wool blanket,
a pillow
and for sure a personalized service,
To ensure your privacy and your well-being, your personal space is completely preserved when the passenger in front of you tilts his seat.
A variety of magazines and newspapers are offered for your entertainment on board.

Catering
you will be served a glass of champagne or fruit juice as welcome drink once you are seated. The meal is cooked with the care of haute cuisine, served in an elegant dish with constant attention from our crew, always attentive to your every need.


Economy class
On board our Economy classes, benefit comfort and are special attention from our cabin crew.
Our ergonomic seats offer comfort for a pleasant trip.
Depending on your flight duration, meal and drinks are served and according to the time you may have: breakfast, lunch, snack or dinner, hot or cold beverages, alcoholic or not.


Special Meals

For medical needs, dietary, or religious conventions, you may order special meals for your travel on board ASKY flights. Please contact your travel agent or ASKY offices no later than 48 hours before flight departure.
Your children will also have a special menu. Mention it when booking.


In-flight duty free sales
There is the listing of the duty free items sold onboard in the in-flight magazine. Our cabin crew are there to help you.